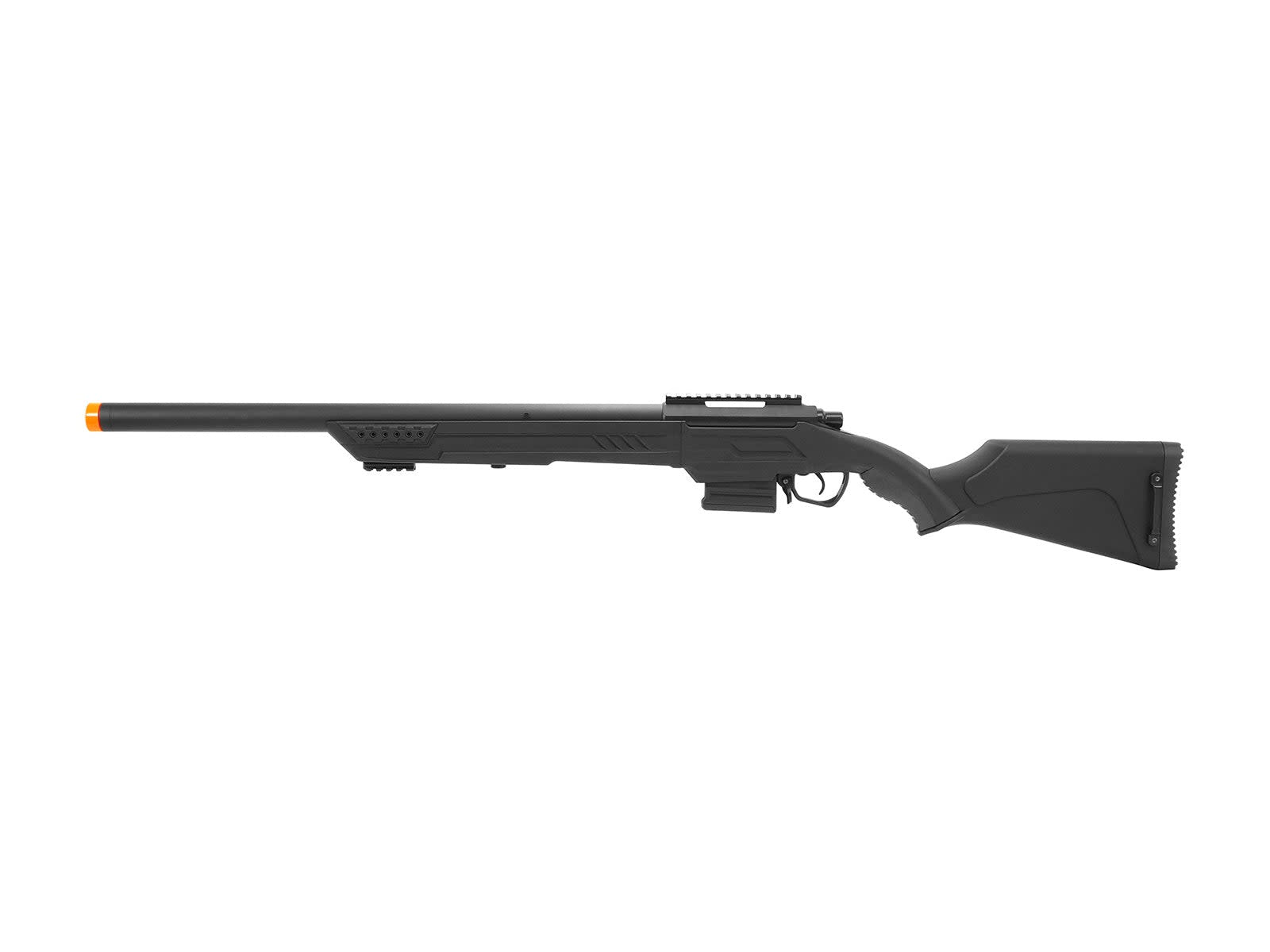 Action Army T-11 Sniper Rifle
---
The T11 is the newest sniper rifle from Action Army Company. Renowned in the airsoft community for their sniper rifle upgrade parts, Action Army has taken their expertise and experience and applied it to a complete rifle. The internals and externals of the T11 rifle are all made to VSR-10 specifications, so it can accept any upgrades compatible with VSR-10 bolt action sniper rifles. The durable yet lightweight polymer stock allows for quick and unencumbered movement, and has a small rail at the front for a bipod. The receiver is all metal for durability and reliability, and has a scope rail for the installation of optics.
The T11 has many standard features normally only found as aftermarket upgrades:
Steel cylinder
Enlarged grooved bolt handle
Aluminum vented piston with low friction glide rings and steel base
90 degree trigger
Stainless steel ball bearing spring guide
Aluminum cylinder head
Precision enhanced hop-up chamber with concave arm
The pre-upgraded cylinder, trigger, piston, and cylinder head all greatly improve the reliability and durability of the rifle, while the enhanced hop-up design increases the range and consistency of each shot. These features make the T11 right out of the box already on par with custom-built sniper rifles, eliminating the need for any aftermarket upgrades.
Material: Plastic/Metal
Inner Barrel Length :300mm
Magazine Capacity: 50 Rounds
Overall Length :1100mm
Weight : 2050g
This product has a 9-month warranty starting from the date of purchase when purchased from an ActionSportGames-authorized retailer. The warranty covers any defects in materials or workmanship. User-incurred damage is not covered under the warranty. Any modifications to or disassembly of the product (including removal of the federally-mandated orange tip) will void the warranty.